| | | |
| --- | --- | --- |
| | Introduction to the International Cuban Philatelic Society (ICPS) | |
Our society was organized at the beginning of 2010 for the purpose of promoting Cuban philately and philatelic friendship among its members. We sponsor studies and research in the stamps and postal history of Cuba. We are committed to assisting our membership, and the public in general, in becoming more familiar with all aspects of Cuban philately and we look forward towards sharing that knowledge with you through these Internet pages and later through a more active participation in our Society.
Our society publishes an English-Spanish bilingual journal, Journal of Cuban Philately, containing a wide variety of articles on Cuban philately and news and announcements to keep our members informed of Society meetings, activities, and events. We also publish monographs from time to time. So far we have published the following monographs: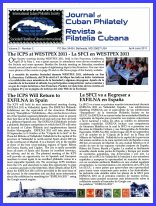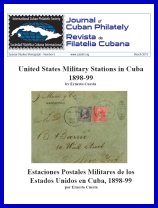 Guide to Expertizing Puerto Príncipe Surcharges;
The 1892 - 1898 Postal Cards of Cuba - New Discoveries;
Tina Modotti and the Cuban Julio Antonio Mella postal cards of 1965 - 1986;
Baracoa - Cuba's First City: A Postal History;
United States Military Stations in Cuba 1898-99;
Cuban Stamp Booklets;
Maritime Mail via the Caribbean, 1779-1879;
Perfins on the Postage Stamps of Cuba; and,
The Creation of Telegraph Stamps in Cuba.
These are available free to our members.
The Society also conducts periodic auctions of Cuban philatelic material and literature where members are able to sell their duplicate material and buy needed items for their collections with total confidence because all items sold through our auctions are backed by a guarantee of authenticity for the lifetime of the purchaser. Additional information on our journal and our auctions can be found elsewhere in this Internet site by using the links provided below.
Finally, members are able to post their Cuba exhibits on the Members' Pages. Remember - Anyone can view them, but only members can post them!
We hope you find our society of interest to you and we welcome any inquiries you may have both about our Society or about any aspect of Cuban philately regardless of whether you are thinking of joining us or not.
*Navigation Bar*/>
These pages are maintained by Robert Littrell.